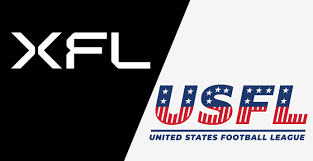 As expected, the spring football leagues split the already-limited audience in their first head-to-head.
Average viewership for week one of the USFL season was only half of last year's and easily the least-watched opening of a spring football league in the flurry of launches the past five years; the USFL is the first of the leagues to reach a second season.
The USFL this year contends with competition from the XFL. While the USFL delivered the top spring football audience of the weekend, its season-opening Saturday doubleheader was outdrawn by ABC's Vegas-Houston XFL game earlier in the day.
The USFL won the two direct head-to-heads over the weekend, but in both cases the USFL was on broadcast and the XFL on cable. ESPN2's Orlando-San Antonio match ranked as the least-watched XFL game on one of the main ESPN networks all season.
It should be noted that while the USFL had the top overall audience between the two leagues over the weekend, the XFL took the top two spots in adults 18-49.
FULL STORY