Earth is 4.5 billion years old. We've only been tracking temperatures for about 170 years. Any time someone says "Hottest day ever," that person is lying to you.
Yet of course, there's another summer heatwave and the Western world's leftists are again raising the hysteria level to "We're all going to die unless we end fossil fuels instantly." Here are a few long view concepts:
There is nothing you eat, use, look at, wear, live in, travel with, or anything else that isn't completely dependent on fossil fuels. Underlying every single aspect of our lives, fossil fuel is the difference between a life of strife, pain, and early death.
Without fossil fuel, nothing separates us from the pre-modern era. For 99% of the world's population, life was short, painful, diseased, filthy dirty, hungry, and either too hot or too cold. Most people didn't live past 40 & half of children died before 5.
Remove fossil fuels (without a nuclear substitute) and you are suddenly returned to life in a wood or dirt shelter, with only the most limited food and clothing, and really nothing else. In the transition from our world to that world, expect 80% of the earth's population to die very quickly from starvation, disease, and violence.
People are being indoctrinated & manipulated to abandon modernity and return to the brutal, deadly past in ways they may not even realize. This meme is perfectly illustrative of the panic-mongering, propagandizing & brainwashing going on -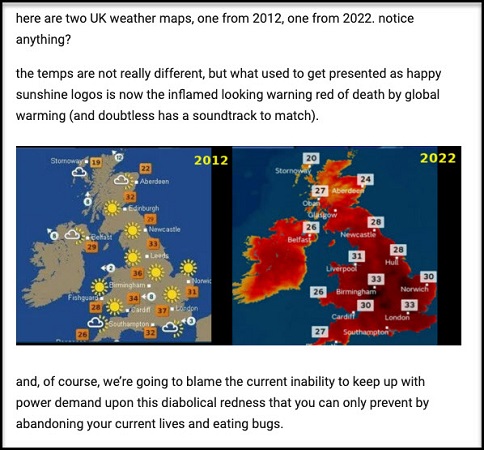 FULL STORY
---
So, what're you gonna believe? "Settled science" or your lyin' eyes? Anyone who can't see where this is going doesn't have a lick of common sense left: though if you don't mind death sentences, then the transition will be right up your alley -
Yet
in fact, there
is

no energy
'transition' going on as both wind & solar have huge issues being made viable to
scale up
to meet modern day usage & thus, inherently & for all practical purposes, a massive scaling DOWN is what's actually in progress!
Despite incessant "green" propaganda, results of
a recent poll
seem to show on a basic personal level
most
Americans know pursuing this policy will not end well:
Just 32% of those answering the poll, which has a margin of error of +/-2.5 percentage points, said they support Biden's climate change policy even if it means higher energy prices.

But a far larger majority of 57% answered in the negative. They either said they disagreed with his policies and want more and cheaper energy (41%), or don't think climate change should be a U.S. policy priority (10%), or don't even believe that the climate is changing (6%).
Will midterm voters throw their support behind the intellectually impoverished Woke party & its full speed ahead plan to end fossil fuels? Or will the lion's share instead voice their displeasure with a resounding roar of "HELL NO"? Stay Tuned!