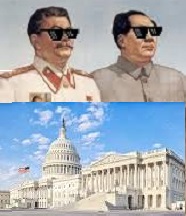 'Stalin & Mao Go To Washington'
Ain'it great? From the impending federal government takeover to big tech/big biz boardrooms, we've got
Woke Inc.
taking charge of crushing dissent & ready to usher in a new era of
utopian socialism
, & there's no way anything can go wrong
Umm.. except there is. This totalitarian thing is a double edged sword. If you're down with depriving a certain sizable segment of the population of
their
rights 'cause it's somehow justified, you're forgetting absolute power corrupts absolutely
Oh, but it's different this time in'it? We'll have the
best & brightest
looking out for the nation's best interests. Folks like
Kamala & Bernie & AOC & the Squad
, they'll of course only do what's fair & moral & just, we can trust them to take care of us
We'll have it so good
we won't know what hit us

. A government big enough to give you everything you want is big enough to take it all away
- Just remember that when all that free stuff stops coming your way - Whachoo gonna do
then
, hah?...
You got no rights, no healthcare, no job, no stuff.
No phone, no lights, no motor car,
not a single luxury!
They got it all & left you with nothin'. It finally hits you something is seriously wrong & there's only one thing you can do:
Blame Trump
!!!